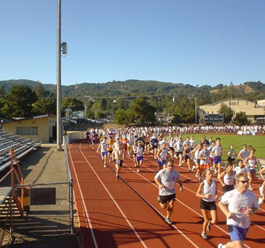 There weren't this many people on the Los Gatos track this morning but it started to feel like it was getting close. I started on the track with only three men doing 400-meter repeats. By the time I finished running some sprints on the football field there were at least three boot camps set up around the field.
Do barefoot sprints on the manicured grass was a treat. In Austin, there are usually signs stating to keep off the grass. Not so in Los Gatos and the grass was in much, much better shape. You almost felt like you had to go through a workout with such great grass and conditions. The dew and cold made the feet go numb rather quickly. I'm going to miss that track for the remainder of the trip as we change hotels to San Jose this afternoon. Given my quads are now thoroughly trashed and sore from yesterday's hill run and today's sprints, I may stay in the hotel gym tomorrow.
I tasted the best Mahi Mahi 've ever had down at Fisherman's Wharf in San Francisco yesterday. Fantastic food. A little too crowded in the city for my taste. Maybe I've been in the burbs too long. Too much congestion gets my anxiety going.
I'm a big lover of Tex-Mex so it was interesting eating in a Cal-Mex restaurant today. The Aqui Restaurant treated us to some fantastic organic Cal-Mex which was similar to organic, up-scale Tex Mex. The salmon taco was exceptional, dressed with some cabbage and nuts and a variety of salsas. The margarita swirled with sangria quenched my thirst, although it's difficult to build up a thirst when the temperature varies from 57 degrees to a high of 77.
Kayla beat out six other ice skaters in her first solo competition this morning, winning second place. This was the last time she skated to the theme song from the Titanic. She'll select a new routine and outfit for next year.